Even if you haven't been to Cinque Terre, you've probably seen photos of those colourful buildings perched on top of a hillside; sparkling blue sea surrounding them. This rugged coastline, part of what is known as the Italian Riveria, is one of the most popular tourist destinations in Italy, with 2.5 million people visiting annually. If you're short on time and you have only one day in Cinque Terre, here's my 1 day Cinque Terre itinerary.
How To Get To Cinque Terre
Train: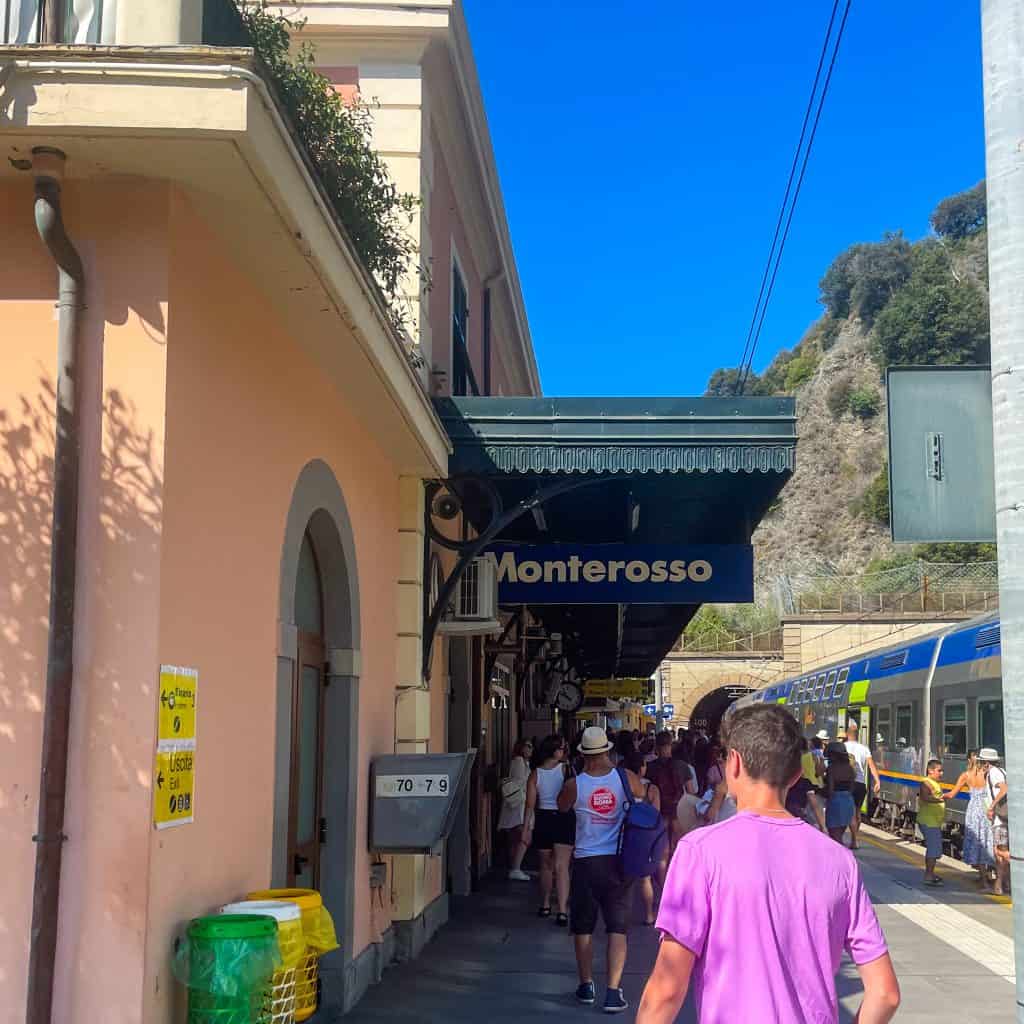 We chose to reach Cinque Terre and explore the five villages by train. It's probably the most popular and convenient way to reach Cinque Terre, particularly if you're travelling in Italy with teenagers or children. The views from the trains are spectacular but they do get really busy in high season.
The main train line that runs through Cinque Terre goes from La Spezia Centrale and is known as the Genoa-Rome line. It links all five of the villages: Monterosso al Mare, Vernazza, Corniglia, Manarola, and Riomaggiore. You can catch trains to La Spezia from major cities such as Genoa, Pisa, Florence, and Rome. Our cruise ship stopped at La Spezia and we were able to walk from the port to the train station.
You can buy a 1 day Cinque Terre train card in advance. Head here for more information. The card gives you unlimited journies between Cinque Terre's villages over the course of a day and also includes access to several hiking trails. However, you can also purchase single or return tickets between villages at each of the stations. Either way, just remember to validate your ticket at the station before getting on the train.
Boat:
Another scenic way to arrive in Cinque Terre is by boat. During the summer months, there are ferry services that connect Cinque Terre to nearby ports Levanto, Portovenere and La Spezia. Check Cinque Terre's ferry timetable here.
The only village the ferry won't stop at is Corniglia as there is no access to the village from the sea. You can easily combine train and ferry travel though, if you wish.
Another popular (and pricier) way to experience Cinque Terre is to book a boat tour. This is a fantastic choice for families wanting to avoid the crowds. Take a look at Viator for boat trip options.
Car:
While driving to Cinque Terre is possible, it's advisable to leave your car in one of the larger towns outside the Cinque Terre region, such as La Spezia, and then take a train or boat into the villages. The villages are not easily accessible by car; the roads are narrow, and parking is limited.
Air:
The nearest large airport to Cinque Terre is Pisa International Airport (Galileo Galilei Airport). From Pisa, you can take a train to La Spezia and then transfer to the Cinque Terre train line.
Florence and Genoa also have airports with good train connections to the region.
Hiking/ Walking:
For more adventurous and active travellers, you could think about hiking into Cinque Terre. There are hiking trails that connect the five villages, offering breathtaking views of the coastline.
The most famous trail is the Sentiero Azzurro (Blue Trail) which runs along the coast. Keep in mind that some trails may have sections with steep climbs and descents, so if you're travelling with younger children they may not be suitable.
You can purchase a 1 day Cinque Terre Trekking card here. It gives you access to all footpaths, including the paid-for routes which are from Monterosso to Vernazza and from Vernazza to Corniglia.
Best Towns in Cinque Terre
You could fit all five villages into your 1 day Cinque Terre itinerary, and the 1 day Cinque Terre train/ trekking card allows you to do this. However, in high season, when it's really hot and busy, this is potentially quite exhausting. Many visitors (including us) choose three Cinque Terre towns to visit and this seems like a good amount to aim for. In terms of which ones are the best towns in Cinque Terre, you really can't go wrong with any of them. It just depends on what you're looking for and your mobility/ energy levels!
Cinque Terre's five towns in order of distance from La Spezia are:
Monterosso al Mare
Monterosso has the best beach in Cinque Terre so it's a good town to visit if you want some time to relax or go for a swim in the sea. It's a good choice for families.
Monterosso is the largest of the Cinque Terre villages. It has a more resort-like feel with a wide promenade and a range of hotels, restaurants and shops. Make sure you walk down to the end to catch sight of the statue of Neptune (known as 'Gigante'). Turn right out of the station to get there.
Monterosso is divided into two main parts—Monterosso al Mare, the old town located by the sea, and Monterosso al Colla, the new town situated on the hill. Monterosso is famous for its lemon orchards and the Lemon Festival it holds each year in May.
Vernazza
Considered one of Cinque Terre's prettiest villages, Vernazza has a small harbour, colourful buildings, and a castle with panoramic views. There's a lively central square (Piazza Marconi) featuring cafes and a beautiful church. Vernazza has a strong fishing tradition and there's some great seafood to be had in this village.
You can reach Vernazza from Monterosso by hiking the Sentiero Azzurro (Blue Trail) – one of the most popular trails in Cinque Terre. If you're short on time or not feeling that active, you can just hop back on the train and take it one stop to Vernazza.
If you visit Vernazza, consider taking a look at Doria Castle (Castello Doria), a 15th century medieval fortress. The views from here are not to be missed.
Corniglia
Perched on a cliff, Corniglia is unique among Cinque Terre's villages. It's smaller and tends to be less crowded, so has a more peaceful atmosphere. It's quieter because it's a little trickier to get to. To reach Corniglia, you'll need to climb a set of stairs (382 steps high) from the train station, known as 'Lardarina'. The views are definitely worth it though.
Corniglia is the only town not at sea level but it makes up for that with the amazing views it has from its elevated position.
Manarola
Manarola might be the top contender for best view in Cinque Terre. It's definitely a popular spot for photographers. The village is built on the cliffs, and the waterfront is dotted with charming shops and colourful boats. We saw plenty of people jumping into the water for a swim from the harbour here. There are some amazing seafood and sandwich shops and restaurants in Manarola and many people choose to take their lunch down to the harbour to eat there. To reach that iconic viewpoint, head towards the water and take the path leading right, around the edge of the harbour. It'll take you uphill and then up some steps. It's not strenuous and the view is definitely worth it.
If you've seen the Disney film 'Luca', Manarola might look familiar to you. The director based Luca's hometown of Portorosso on Manarola and the other Cinque Terre towns.
Riomaggiore
The last and southernmost village, Riomaggiore, has a lively atmosphere. It features colourful buildings, much like Manarola, a pretty harbour, and a beautiful waterfront promenade.
Riomaggiore is connected to Manarola by the famous Via dell'Amore, a scenic coastal path that provides catch-your-breath views of the sea.
If you visit Riomaggiore, you might want to pay a visit to Riomaggiore castle and the Church of San Giovanni Battista, with its impressive interior.
Where to Stay in Cinque Terre
If you have time for a Cinque Terre 2 day itinerary or you want somewhere to stay at the end of your one day in Cinque Terre visit, here are some options:
Cinque Terre Camping
There's no camping in Cinque Terre National Park available but you could consider camping in La Spezia and then travelling to Cinque Terre from there, as detailed above. The other option is to travel north of Monterosso al Mare, where there are a number of options available to you. If you have a camper van, check out Park Camper II Poggio 5 Terre. Just slightly north of there, near Ridarolo and Levanto, there are more close-to-Cinque Terre campsite choices. Campeggio Pian di Picche and Camping Acqua Dolce are popular camping Cinque Terre options.
b&b Cinque Terre
If camping in Cinque Terre isn't for you, and you'd prefer a bit more comfort, a b&b Cinque Terre stay may be the way to go. While a bit more expensive, you'll be closer to the action – and staying overnight will mean you don't need to cram all five Cinque Terre towns into one day. If you fancy staying in Riomaggiore, consider Scorci Di Mare, which has amazing reviews. B&B La Fontenella is just outside of Manarola. It has a swimming pool and is a great base to cycle around the area. If you're looking for something central and near the beach, take a look at Locanda A Ca Du Gigante, right by Monterosso Al Mare's famous statue of the same name.
What Food is Cinque Terre Known For?
Cinque Terre is on the Ligurian coast and Liguria is particularly famous for pesto. This is definitely the place to try pesto pasta! Traditionally, it's served here with trofie pasta (a short, fairly dense, twisted pasta shape). Each region of Italy has its own pasta shapes and trofie is Liguria's. You'll find many restaurants and cafes serving trofie with pesto across the five villages.
Due to the proximity to the Ligurian Sea, seafood is plentiful here and you'll come across plenty of calamari, octopus and fried and grilled fish served either in a bun or with chips.
Foccacia is a staple in this region and you'll find many sandwich bars and shops selling amazing-looking foccacia sandwiches with a range of fillings.
In terms of what to drink while you're here, the Cinque Terre region is known for producing Sciacchetrà, a sweet wine made from dried grapes. It's a local specialty and often enjoyed as a dessert wine.
Best Activities To Try if You Have One Day in Cinque Terre
Here are my recommendations if you're in Italy with teenagers or tweens and you're on the lookout for a Cinque Terre one day itinerary:
Hike part of the Sentiero Azzurro (Blue Trail):
The Sentiero Azzurro connects all five villages but with only one day in Cinque Terre, you may not have time for the whole route. The most famous segment of the trail is Via Dell'Amore ('Lovers Lane'). It's a short, relatively easy coastal path between Riomaggiore and Manarola. Perfect if you're with kids who don't want to walk too far!
Visit the Beach in Monterosso Al Mare
We started our trip to Cinque Terre in Monterosso Al Mare. The best time to visit is in the morning before the beach gets too busy. Monterosso is the only Cinque Terre town with a beach so it's one of the best Cinque Terre towns to visit if you want to relax on the sand and go for a swim. Don't forget to look for Gigante, the statue of Neptune – it's a definite hit with kids.
Book a Boat Tour
Take a boat tour to appreciate the beauty of Cinque Terre from the sea. It's a completely different way of seeing the towns. Two options teens and kids will love are this Cinque Terre speedboat tour and this Cinque Terre Boat Trip with Snorkelling.
Try Trofie Pesto:
Most teenagers and kids are happy with pesto pasta and Cinque Terre is the place to try it. You won't be short of places offering it in any of the Cinque Terre towns.
Visit the Castles:
Explore one of the historic castles Cinque Terre has to offer. You can visit castles in each of the five towns although the ones in Monterosso al Mare and Riomaggiore are in the best condition. You'll be treated to some great views from the castles too.
Catch the Sunset
Manarola and Riomaggiore are arguably the best Cinque Terre towns for breathtaking sunset views. Stop by Nessun Dorma for a drink or dinner with the best view in Cinque Terre. Nessun Dorma also offers pesto cookery classes, wine experiences and boat trips. Make sure you book ahead.
If you have time for a Cinque Terre 2 day itinerary…
Explore Cinque Terre National Park:
The Cinque Terre National Park covers a small area of around 15 square miles. This includes not only the five villages but also hills, vineyards, olive groves and cliffs beyond them. The Cinque Terre National Park is a UNESCO World Heritage Site which offers various trails for hiking and exploring. As well as the coastal trails, there are also inland paths which will take you to the vineyards and olive groves. Find out more and plan your route here.
Take a Cooking Class
If you like the sound of Ligurian cuisine, why not learn how to prepare some of the local dishes by taking a cooking class? This is a great hands-on way to immerse yourself in the culinary traditions of the region. This is your chance to make some authentic pesto and fresh pasta with the kids! Check out these cookery classes.
I hope you enjoy your 1 day Cinque Terre trip! If you're planning on visiting Italy with teenagers or kids and want to add other locations to your itinerary too, take a look at Lake Como With Kids, Italy with Teenagers: 24 hours in Rome and What To Do In Montepulciano With Kids.