If you're looking for ideas for a family trip to Thailand and you want to stimulate your children's curiosity and get them thinking about the world beyond them, read on to find out my five favourite things to do in Thailand with kids…
But, first…
Is Thailand Safe For Families?
Thailand with kids is accessible, relatively easy and safe as long as you're sensible. Normal safety measures should apply, as they would do at home. Resorts and family hotels will be safe and secure. Outside of the resorts, ensure you identify reputable tour guides or group adventures for your family. There are lots of options, both adventurous and more laid back.
Is Thailand A Good Place To Take Kids?
Thailand is the perfect introduction to Asia for children and families. Thai people are generally incredibly friendly, speak excellent English and love kids. Younger kids will get a lot of attention in Thailand – whether they relish it or not!
Which Part Of Thailand Is Best For Families?
The appeal of Thailand probably doesn't need much explanation or justification. Whether you're after beaches, jungles or vibrant cities, Thailand has it all and more.
Phuket and Khao Lok on the west coast are particularly great places to visit in Thailand with family (as are Hua Hin and Koh Samui) with lots of beaches, activities and family hotels.
Bangkok is chaotic and colourful and quite full on.
Quieter and more cautious kids might feel nervous in the chaos of a frenetic city such as Bangkok. We often find that our eldest takes a day or two to settle into a new location but preparing him in advance for what to expect helps.
Bangkok will be hot and noisy – but a quiet, calm hotel with a pool may help counter this. We gave it a miss as our kids were younger when we visited -but it's a great experience for older kids.
For mountains and rainforests in Thailand with kids, head to Chang Mai. It's slightly more off the beaten track than other locations in Thailand, but has become much more popular.
What Is The Best Month To Go To Thailand?
Peak season in Thailand is December and January – this is a great time to visit as it's less hot than March and April, however you'll be paying peak prices.
Thailand's wet season is May to October. However, don't let that put you off visiting during this time of year. Rain tends to be sudden downpours rather than constant drizzle and there's still plenty of sunshine.
1. Spend Time With The Elephants at Elephant Hills
Elephant Hills isn't the cheapest excursion, but if you want to experience these magnificent creatures up close and keep your ethics in check too, it's one of the best. It's definitely one for your Thailand bucket list!
Most visitors choose to stay for two days (one night) or three days (two nights). Due to the price, we plumped for one night and we felt this was more than enough with two action-packed days on either side.
We enjoyed a jungle trek, kayaking and of course feeding and bathing the elephants. It's all-inclusive with an amazing array of both Thai and western food for breakfast, lunch and dinner.
Elephant Hills prides itself on being very eco-conscious (for example, giving you re-fillable water bottles for the duration of your stay rather than selling plastic disposable ones).
The luxury tents were right up my street – you could hear all the jungle sounds and feel like you were camping while in a super comfy bed!
The kids loved the up close and personal experience with the elephants as well as learning about the ways in which elephants are often mistreated (see below).
The jungle trek and kayaking kept them active and gave them the experience of immersing themselves in the local flora and fauna. They saw rubber trees with little bowls attached to them, ready to collect the rubber, and watched a troop of monkeys grooming each other on the rocks.
*Don't be tempted to pay for an elephant ride whilst in Thailand with kids. The elephants used for these rides have been 'tamed' – using brutal methods while they are still babies. This process has a name: 'Phajaan', which, translated, means 'the crush' [breaking the baby elephant's spirit].
For more on Conscious Travel, take a look at my post How To Be a Conscious Traveller.
2. Take A Thai Cookery Class
Expanding the repertoire of dishes my kids will eat is always a challenge – and an ongoing goal of mine! My kids started out with Chicken Satay (minus the satay sauce) and sticky rice- but did branch out to Beef Kra Pow, Pad Thai and Thai Green Curry by the time we went home.
We booked a wonderful one to one cookery course with Pam at Pam's Restaurant and Bar which was particularly useful in terms of getting the kids to try new dishes. Pam's restaurant in Khao Lak is well known, and for good reason – whatever you choose will be cooked to perfection.
When you book the cookery class, you can choose your own selection of dishes from the restaurant menu and you'll visit one of the local food markets to pick up your ingredients. Pam also helped us to choose some fresh curry pastes to take home with us from the market, giving us the helpful tip that if we pop them in the freezer they'll last for months. I know we'll be using Pam's recipes for years to come.
If you have younger children, or kids who remain un-keen on Asian food, then it's not an issue – many of the restaurants offer western food such as spaghetti bolognese, burgers and club sandwiches to a really good standard. However, It was fantastic to take a deep dive into Thai cuisine and for the kids to be pushed out of their comfort zone to try new things. A Thai cookery class will definitely help with that!
3. Get Active By Going Snorkelling Or Cycling
Thailand is a great location for cycling and snorkelling (no need for wetsuits; the water is unbelievably warm). We booked a day's cycling trip with Kitty from greenbikingclub.com. Kitty brought bikes to us at our hotel for our kids to try and took us out on lots of flat roads (phew) with some great stop-offs on the way (the turtle sanctuary and a deserted beach for a quick dip).
There are a number of companies offering snorkelling trips in the Phuket/ Khao Lak area. To be honest, most of them take you to the same dive centre and people are then organised into smaller groups when being allocated space on a boat – so don't worry too much about which company to book with. Calm water is what you need for snorkelling with kids; mine have been put off by choppy waves and water going into their snorkel. Thailand is one of the best places for early attempts at snorkelling.
If you're a family of thrill seekers, try zip line Flying Hanuman in Phuket.
4. Visit The Beaches
Every family needs a bit of downtime on the beach while on holiday. Thailand has some of the most beautiful beaches in the world; there's no doubt those views are good for the soul! Plus, the water is so warm that even the husband got in for a dip! Plenty of opportunities for a Thai massage too; my son enjoyed his first foot massage!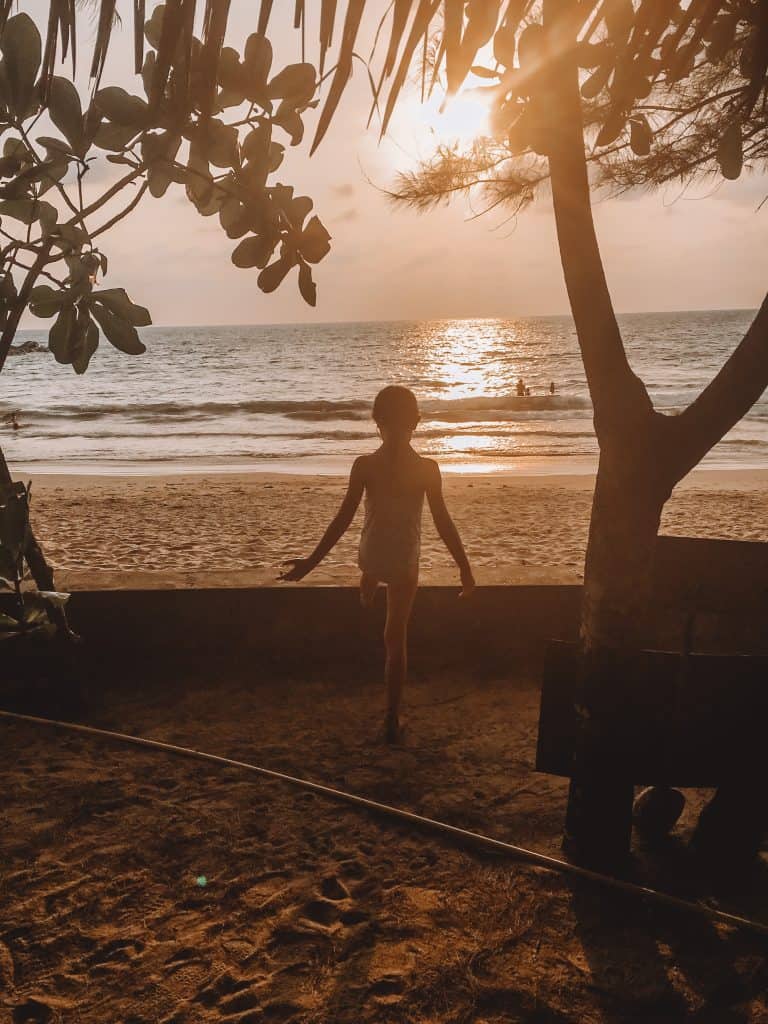 These are some of the best beaches in Thailand for families:
Hua Hin – close to Bangkok so easy to combine with a few days in the capital.
Pattaya – busy and vibrant, Pattaya has become more of a family destination in recent years.
Hat Chaweng – on Ko Samui, there's lots going on here. Geared more towards young adults in the past, there are loads of options for families here now.
Ko Chang – a bit more wild and rugged.
5. Take A Boat Trip
There are loads of day trips you can do in Thailand with kids which involve a long-tail boat or speed boat. Both are equally exciting!
If you decide to explore the islands off the east coast of Thailand (Koh Samui and Koh Phangan), you'll find that they now largely cater to tourists by way of ferry. So, if you want a more traditional experience, look into day trip options.
We chose a day trip to James Bond Island – so-called because a scene from 'The Man With the Golden Gun' was shot there. The craggy pillar of rock looks just majestic against the water and the sky.
Also part of the trip was a visit to Koh Panyee (the Floating Muslim Village) – a highlight being the floating football pitch. The best bit is you can do this day trip by long tail boat, that quintessentially Thai form of water transport.
Where to stay
We stayed at the Seaview Resort Khao Lak (formerly Centara), the Centara Karon Resort Phuket and the Swissotel Phuket – all very family-friendly hotels. Excellent breakfasts, clean rooms, swimming pools (with water slides) which will appeal to the kids, and the beach, restaurants and shops within a short walking distance.
There's plenty of choice when it comes to accomodation in Thailand with kids, and you can find a good range of accommodation to suit any budget. However, if you're looking for a hotel chain which has a great reputation in Asia, Centara is up there without a doubt.
What To Take With You On A Trip To Thailand With Kids:
Natural mosquito repellent Prickly Heat powder – Snake Brand
Antiseptic cream Family Sun Cream for sensitive skin – Ultrasun
Long sleeved swimsuit Walking boots/ shoes – if travelling to Chang Mai/ a location such as Elephant Hills
Loose fitting linen shirt to cover arms
What To Read When On Holiday In Thailand With Kids:
All About Thailand – Elaine Russell
Travel for Kids, Thailand: The fun way to discover Thailand – Dinobibi
More Info:
For more ideas on family travel to Asia, take a look at Borneo With Kids And The Perfect Family Itinerary and What Kids Can Learn From A Trip To The Maldives.
Thailand makes my 8 Best Holiday Destinations For Curious Families. Check out the locations I recommend!