Whether you're an empath yourself, or the parent of a sensitive child who you'd like to support and understand more, you'll find some fantastic resources below. Read on for my list of the best books for empaths. They are books that have helped me personally and I hope might help you too.
What is an empath?
An empath is a person who is highly attuned to other people's feelings, emotions and moods. While being an empath is linked to empathy, empaths don't just understand other people's feelings, they actually experience them. Empaths tend to have good intuition (they go with their 'gut'). If you're an empath, you'll usually be quick to pick up on when other people are struggling or feeling sad.
Empaths are 'helpers' – they'll often be drawn to helping professions and be the ones who people share their problems with. While this may feel positive, empaths need to be careful about maintaining boundaries and protecting themselves so that they don't deplete their own energy.
It's important, if you're an empath, that you ensure your own needs are met. Some of these books will help you do that.
Best books for empaths
The recommended books below offer:
Tips for empaths
Advice on self-care for empaths
Triggers for empaths
How to cope with overwhelm
How to be an 'empowered empath'
Manifestation techniques
How to protect yourself and get what you need as an empath
Mindful parenting
The Highly Sensitive Person – Elaine N. Aron
If you're an empath, you're probably a highly sensitive person too. This book will help you understand how that can manifest and how you can take care of yourself. It's definitely a top pick if you're looking for one of the best books for empaths.
This book helped me realise that many of the feelings and responses I had were shared by others. It made sense of things for me. I'd always thought that sensitive people got upset easily and felt things more deeply. However, the author shares how the sensitive person might also struggle with temperature, weather, noise, brightness, crowds and over-stimulation. In other words, sensory overload is really difficult for sensitive people.
The Highly Sensitive Person will give you tips on how to treat yourself with kindness and understanding when you're feeling overwhelmed. It also points out the positives of being a highly sensitive person (it's definitely not all negative)!
Aron has also written 'The Highly Sensitive Child' which explores how to parent a child who may have been described as 'shy' or 'fussy'. It's great at re-framing those labels. If you're interested in more on this subject, head to my article How Best to Parent Introvert Kids.
Purchase The Highly Sensitive Person by Elaine N. Aron here
Notes On A Nervous Planet – Matt Haig
Matt Haig has been open about his struggles with anxiety and overwhelm. This book is an accessible and easy read for those who've experienced similar. Separated into bite-sized insights, Haig muses on the modern-day stresses in our society, such as social media, our phones and shopping malls! His reflections on why the unnatural nature of supermarkets lends itself to feelings of anxiety reassured me that I'm not alone in the feeling I get when I'm in one (I can't wait to get out).
The book beautifully addresses the ambivalence we might have in relation to the convenience of modern life, and its pressures. To sensitive souls, it can sometimes feel like everything is going too fast and we want to get off – or at least slow down (a lot). Take a look at Matt Haig's other books too – they're all contenders for the best books for empaths.
Purchase Notes on a Nervous Planet by Matt Haig here
The Nice Girl Syndrome – Beverly Engel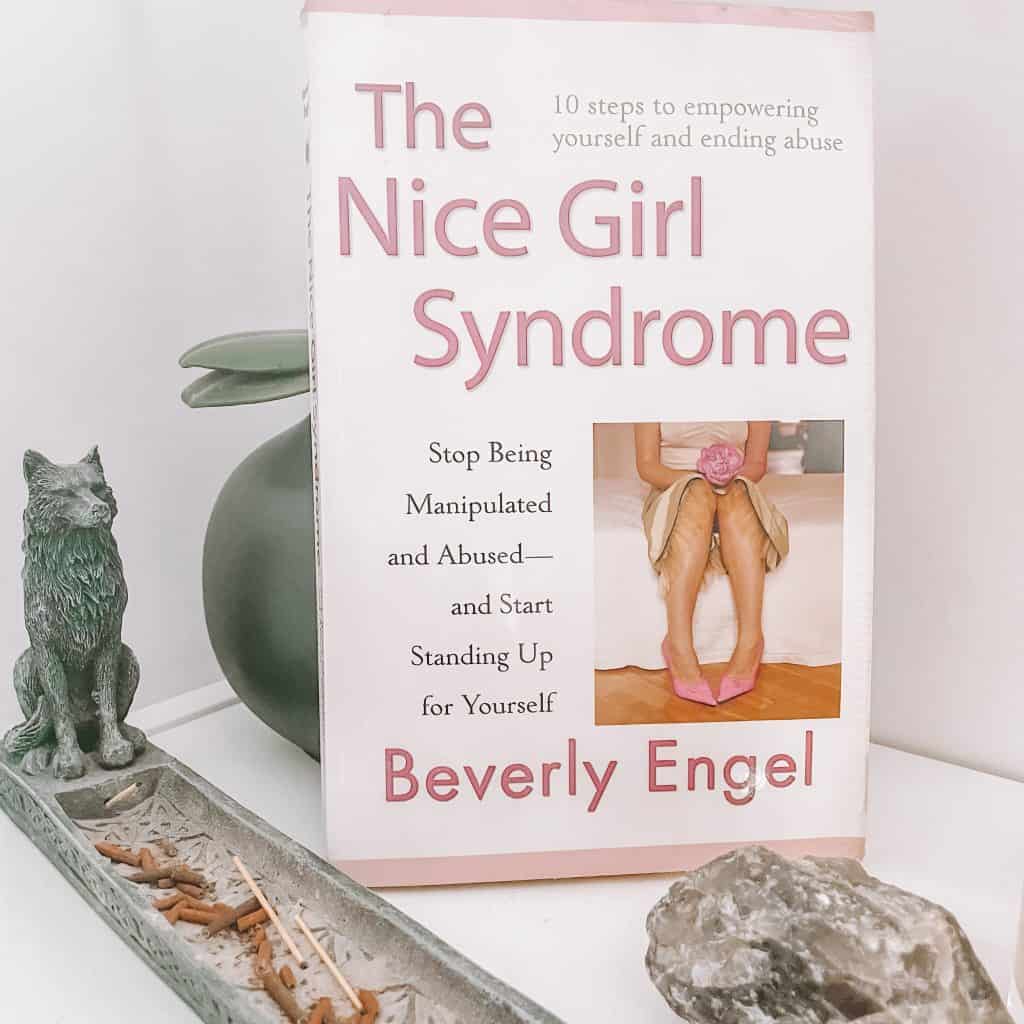 This book outlines the importance of standing in your own power and having the confidence to say no (or yes) when you want to, rather than being a people pleaser.
Engel examines the beliefs and behaviours which lead to the 'nice girl syndrome', and how we might change these, empowering ourselves in the process.
Empaths often think about other people and sometimes put the needs of others before their own. They worry about how their actions may affect others, and what might be considered rude or impolite. I loved this book's discussion on anger – that we have the right to express when we are unhappy or angry about something. The Nice Girl Syndrome helps you to express these feelings in a healthy way.
Purchase The Nice Girl Syndrome by Beverly Engel here
The 5 Love Languages – Gary Chapman
Gary Chapman's Love Languages books have proved popular and enlightening to many. The 5 Love Languages is his original book but he has followed it up with 5 Love Languages of Children and 5 Love Languages of Teenagers which are great reads for parents.
Chapman looks at how we all experience love in different ways. Some feel loved when their partner tells them how wonderful they are and how great they look. For others, it's acts of service such as being made a cup of tea, or physical affection. Often, we don't even know what our own love language is – let alone the love language of those closest to us.
Empaths are often in tune with other people, but this book will set out what it is we need from others and how to communicate this. It will also help the reader understand simple steps they can take to improve relationships with those close to them and create more harmony.
Purchase The 5 Love Languages by Gary Chapman here
You Can Heal Your Life – Louise L. Hay
Louise Hay's You Can Heal Your Life was written in 1984 but still remains a best-seller. It's probably one of the best-known spiritual books out there and undoubtedly one of the best books for empaths.
Hay focuses on the importance of a sense of self-worth and positive affirmations. She links physical illnesses with experiences in you might have had in your life or patterns of thinking.
Hay's views certainly won't suit everyone, and there isn't a scientific basis for much of what she says. However, I think there are many positives to be taken from this book, which has brought comfort to many. As with anything in life, take from it what is useful and leave what is not.
Purchase You Can Heal Your Life by Louise L. Hay here
Consciousness Rising – Nicky Sutton
Empaths are often spiritual people, in tune not only with other people but also with the sense of a 'higher self'. It's one of the best books for empaths if you're interested in self-development, or if you've always felt that you're the sort of person who is curious about the spiritual realm.
As with 'Heal Your Life', I focused on the parts of this book that felt relevant to me and those were the sections on creating balance, peace and time for meditation. I really think these things help us all to identify what it is we want in our lives and what's important to us.
Sutton is supportive and reassuring. You'll feel like she's there accompanying you on your journey to get to know yourself better.
Purchase Consciousness Rising by Nicky Sutton here
Emotional Intelligence – Daniel Goleman
If you're an empath, you're probably quite strong on the emotional Intelligence front. This book reinforces how important emotional intelligence is – both in work and personal relationships. Although it was written in 1995, it's still incredibly relevant.
Emotional Intelligence is a great book for parents raising kids and teenagers. It's also a good choice for anyone who wants to increase their understanding of why people behave the way they do. Goleman focuses on increasing empathy and taking into consideration the early life experiences people might have had.
With emotional intelligence being talked about more and more, and with our kids most likely needing to have this quality more than any other as they head out into an ever-changing world, this is a must-read.
Purchase Emotional Intelligence by Daniel Goleman here
Make It Happen – Jordanna Levin
It's important for empaths to identify their needs and wishes as individuals and not just those of others around them. Sometimes empaths feel uncomfortable with asserting their own desires, but this book on manifestation is a good start.
The book is written in a very relatable way and there are exercises for you to follow to identify what it is you want in life, as well as support for shifting your mindset and taking steps to achieve what it is you want to achieve. Its focus is on having trust and self-belief.
I liked the author's viewpoint that we are always manifesting – whether that's good stuff, bad stuff, or stuff that's neutral – focusing on something repeatedly will often lead us down that path. It's therefore worth trying to actively focus on the positive things you'd like to happen in your life, rather than the negative. You've got nothing to lose.
Purchase Make It Happen by Jordanna Levin here
Sane New World – Ruby Wax
I saw Ruby Wax talk in person about this book when it first came out so I have a signed copy! Wax actually went back to university and got a master's degree in Mindfulness-based Cognitive Therapy from Oxford University before writing this book.
Sane New World is about finding constructive ways to calm the mind. Wax is a big advocate of meditation and mindfulness and talks about the impact it has had on her own life. Many of us, especially empaths, have a lot of chatter (not all of it positive) going on in our heads. Ideally, we need to gain control over that chatter, for the sake of our well-being and in order to move forwards in life. This book will help you try and master that.
Purchase Sane New World: Taming the Mind by Ruby Wax here
Everyday Blessings: The Inner Work of Mindful Parenting – Myla and Jon Kabat-Zinn
Jon Kabat-Zinn is well known in the world of mindfulness and contributed to making it as mainstream and popular as it is today.
This book is geared towards parents specifically and focuses on mindful parenting. It's great if you're an empath parent and sometimes feel overwhelmed. Parenting can be stressful after all.
I like how Everyday Blessings identifies that both parents and children have needs. Both are equally important. Our main objective should be to try and focus on parenting consciously, being in the moment with our children and valuing them for who they are.
Purchase Everyday Blessings: The Inner Work of Mindful Parenting by Myla and Jon Kabat-Zinn here
Sarah Ban Breathnach's Simple Abundance: A Daybook of Comfort and Joy was recommended to me a number of years ago. It's one of my all-time favourite books.
There's approximately a page for each day of the year, often relating to the time of year and what might be going on for you as a woman, juggling life. It's always pertinent and it's beautifully written. Last year marked my third year of reading it through from start to finish. It became part of my morning routine – although of course, life gets in the way and I would sometimes miss days.
It's one of the best books for empaths in my view as it encourages you to focus on yourself. I always feel like it offers encouragement for getting through the day well. It's like a hug in a book.
Purchase Simple Abundance: A Daybook of Comfort and Joy by Sarah Ban Breathnack here
The Daily Stoic was another recommendation and, although a similar premise, I've found it to be very different from Simple Abundance. This book is great if you need a boost of strength and perhaps a bit of tough love. It may not suit all empaths, but it's thought-provoking and insightful. The Daily Stoic will remind you that we can't control everything in life and how important it is to accept this and be at peace with it.
If you've found that meditation works for you as part of your morning routine, this book is a brilliant addition to that. As there's only a page to read per day, it makes it very doable. I have it on my work desk so I remember to dip into it when I'm sitting there.
Purchase The Daily Stoic by Ryan Holiday here
For more book recommendations, check out 16 Books to Boost Empathy in Boys and The 5 Best Books About Kindness for Kids.