We visited Paris for 4 days and 3 nights over a February Half term. This itinerary for 4 days in Paris is for families visiting Paris with teenagers, or those visiting Paris with tweens.
Is Paris a Good Family Trip?
A family trip to Paris is a fantastic idea, particularly for those intending to visit Paris with teens or slightly older children. There are lots of things to do on a Paris family trip, from top museums to historical sights, fantastic shopping and of course some seriously good food.
How Do I Plan a trip to Paris with my family?
Look no further. Just follow my 'Paris 4 days itinerary' for the best ideas when it comes to things to do in Paris with teenagers and children! Obviously, there are loads of things to see and do in Paris, and you're definitely not going to fit them all into an itinerary for 4 days in Paris. That's ok; you'll just have to come back again.
How much does an average trip to Paris cost?
You can probably guess that Paris isn't a cheap city to spend time in. A coffee could cost you up to 5 euros and dining and accommodation in France's capital are often extremely pricey. That said, there are plenty of reasonably priced options for eating and sleeping. See below for some affordable food recommendations. For accommodation, Airbnb and Booking.com always offer good opportunities for comparison and some cheaper choices. It really depends on what kind of experience you want to have.
One good thing is that at many of Paris's museums and galleries, those under 18 go free. You'll also find set menus (particularly for lunch) and kids' menus at lots of restaurants.
If you're travelling by Eurostar to Paris with family, one way of cutting costs is to book ahead (120 days ahead gives you the best prices). Also, avoid travelling on weekends or Monday and Friday mornings if you can. The Eurostar App makes it really easy to change your tickets, free of charge, up to 7 days before you travel.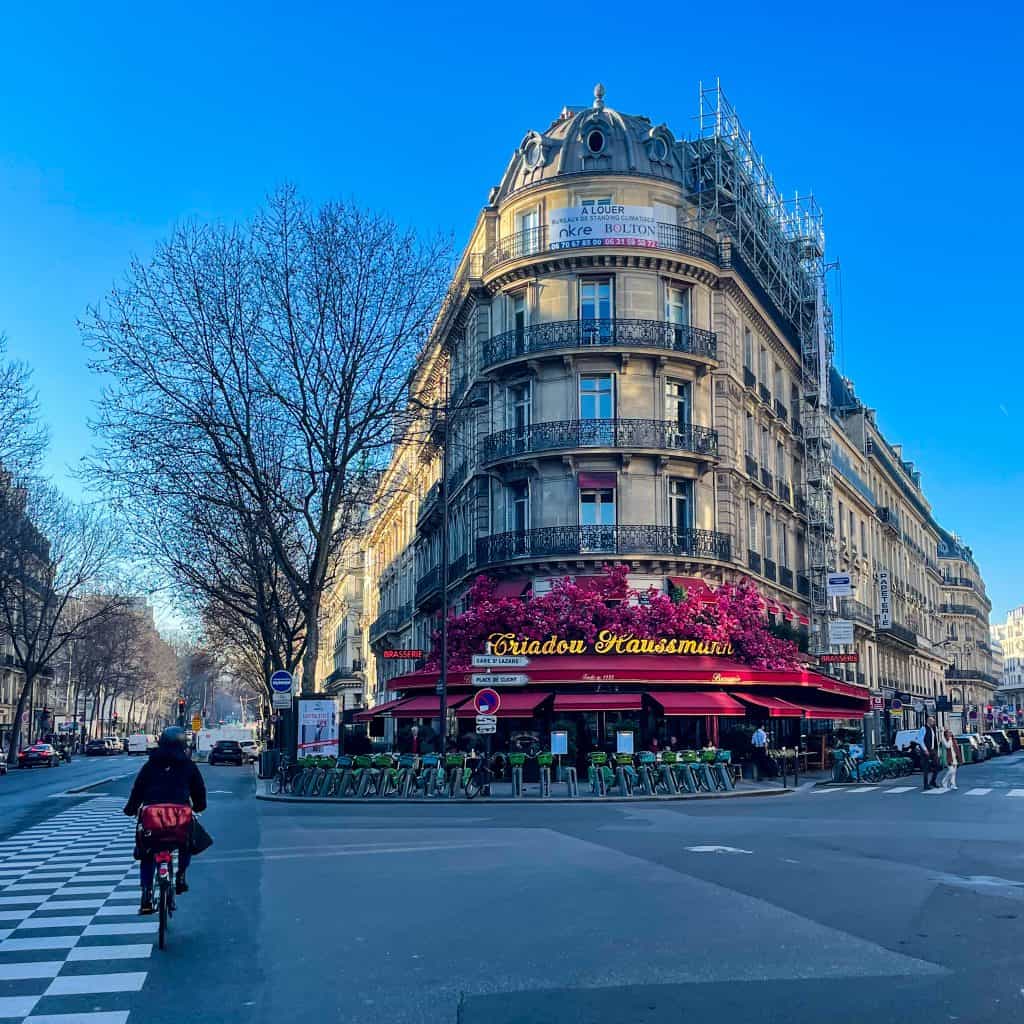 How many days do you need in Paris with kids?
We felt Paris in 4 days was a great length of time for us. If you want to squeeze your trip into a weekend, a '2 days Paris itinerary' is short but doable. This is particularly the case if you're based near London and plan to hop on the Eurostar to get there.
If you want to visit Disneyland Paris, then opt for an itinerary for 4 days in Paris, if you can.
What area is best for families in Paris?
If you're planning on following our itinerary for 4 days in Paris, then your best bet is to stay centrally. If you think you might include Disneyland Paris in your trip, consider staying outside of the city centre, closer to Disney (which is in an area called Chessy). Train connections to the centre are frequent and quick. Hotels outside of the city centre are also much more reasonably priced.
We stayed in Montmartre and we loved being in this area. It's close to lots of lovely brasseries and near sights such as the Sacre Coeur and the Moulin Rouge.
Itinerary for 4 days in Paris
Day 1 in Paris with teenagers
Montmartre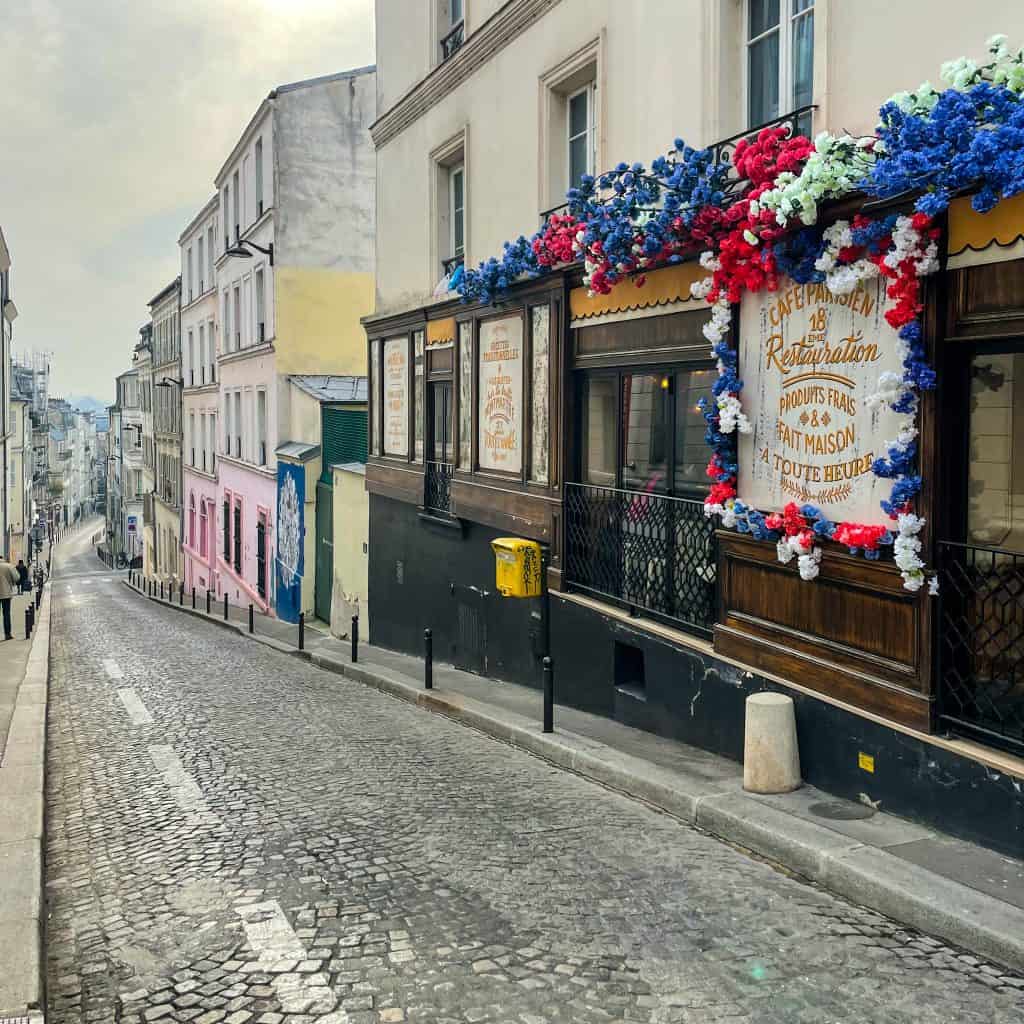 Montmartre is a really cool place to stay in Paris. It has some of the oldest buildings in the city, lots of pretty cafes and is an artist's haven. Stop by Café des Deux Moulins for lunch ( it's where Amelie -in the film of the same name- was a waitress). It's worth doing a short walking tour around Montmartre. Head up Rue Lepic which will take you past some of this area's landmarks. The Lonely Planet Pocket Paris guidebook also has an 'Art in Montmartre' walking tour you can do. It takes you to Van Gogh's house, Renoir's Dance Hall and Place Du Tertre, where you'll see Paris's artists at work.
Teens might love the fact that the popular Netflix series Emily in Paris was filmed in Montmartre due to its pretty streets and pastel-coloured buildings. Take a look at Rue De L'Abreuvoir, cited by one of the characters as "the prettiest street in Paris".
Another gem in Montmartre is the Espace Dali, a permanent Salvador Dali exhibition on Rue Poulbot. Kids and teens who could find some of the other Paris museums and galleries a bit overwhelming will love this smaller gallery which contains some fantastic surrealist artworks.
Closest Metro Stations to Montmartre: Abbesses (Line 12) and Blanche (Line 2)
Sacre Coeur
Construction began on the Sacre Coeur (or Basilica of the Sacred Heart) in 1875 and wasn't completed till 1914. It's the second highest point in the city (due to it being built on Montmartre Hill), after the Eiffel Tower, of course.
Entrance to the Sacre Coeur is free, and it's open from 6.30 am to 10.30 pm. You can climb to the top of the dome via a 300-step staircase to the left of the building (there's no lift).
Going inside may not be what your teens or tweens want to do, but the outside of the building is an impressive sight. Sitting on the steps beneath, overlooking the city, is a great place to people-watch. My son was happy checking out all the impressive pairs of trainers on peoples' feet here!
If you haven't been to it already, around the corner from the Sacre Coeur, you'll find the Artists square (Place du Tertre). You might want to have a family caricature drawn here. In any case, it's worth stopping by just to look at the artists doing their thing.
Closest Metro Station to Sacre Coeur: Anvers (Line 2)
Eiffel Tower at Night
Visiting the Eiffel Tower during a trip to Paris with teens or tweens is a must. There are a variety of tickets, including tickets right to the top, tickets to the 2nd floor by lift and tickets to the 2nd floor via the stairs. You'll need to book several weeks in advance for tickets to the top or by elevator. We bought tickets to the 2nd floor via the stairs and, while it was an experience, I probably wouldn't opt for this type of ticket again. It was hard work and I'm sorry to say I only made it to the 1st floor myself! The views are still impressive from the 1st floor. There's also seating, a restaurant and a bar if you want to stop for longer.
Make sure you add Eiffel Tower tickets to your itinerary for 4 days in Paris.
Buy your tickets to the Eiffel Tower in advance here.
We booked to see the Eiffel Tower at night as it's beautifully lit up with twinkly lights on the hour every hour.
After your trip to the Eiffel Tower, it'd be rude not to fit in some crepes. There's a good stand right across from the tower.
Closest Metro Station to Eiffel Tower: Bir-Hakeim (Line 6)
Day 2 of your family vacation in Paris
Bustronome
We booked tickets in advance for Bustronome. It's a bus ride (a nice one!) across the city to see the sights while enjoying lunch. The food is impressive and they do a really good children's menu (for children up to the age of 12). The kids had ravioli with tomato sauce, chicken and mashed potato and a selection of desserts – all of which they were very happy with.
The journey lasts around 2 hours and starts and finishes across from the Arc De Triomphe (on Avenue Kleber). Along the way, you'll see the Eiffel Tower, the Louvre and Musee D'Orsay, among other Paris sights.
Cleverly, Bustronome has a rack for your wine and water glasses so there'll be no spillages. It's such a unique idea and a different way of sightseeing.
I really recommend this company. The service was really good and they were really accommodating of the fact we needed to change the date of our booking. It's a fantastic experience to add to your itinerary for 4 days in Paris with teens.
Closest Metro Station to Bustronome: Charles de Gaulle-Etoile (Line 1)
Champs Elysee
If your teens and tweens are fashion-conscious, they might be keen to venture to the Champs Elysee. Our first stop was the gigantic Nike House of Innovation store. It follows the first House of Innovation stores in New York and Shanghai and is the first in Europe. It aims to be an 'immersive retail concept' and its 4 floors are definitely impressive, if not a little overwhelming!
Look out for Laduree Paris Champs Elysee, further on down the Champs Elysee. It's on the same side of the road as Nike. Stop by to enjoy afternoon tea or pick up some of their famous macaroons (with packaging equally as beautiful). They make perfect gifts to take home with you too.
My favourite shop on the Champs Elysee had to be Paris's flagship Louis Vuitton store. You probably won't miss it! Not only is the store huge, but since January 2023 it also features a giant figure (of artist Yayoi Kusama) painting the polka dots affixed to the building. It's definitely worth seeing.
The Champs Elysee also now has a Galeries Lafayette, Paris's most famous department store.
Closest Metro Station for Champs Elysee: Champs Elysees- Clemenceau (Line 1 and 13)
Printemps Rooftop Cafe
After your afternoon of shopping, you may be ready to sit down with a drink – perhaps with a fantastic view in front of you. There aren't many views better than the one from the Printemps department store rooftop cafe on Bd Haussman. Printemps has been a Paris institution since 1865. While there are other Printemps stores, this one (their flagship store) has the added bonus of one of the best views in Paris. We didn't eat here, and it's not cheap – but we knew that we'd be paying for the view. The kids did enjoy their milkshakes here though.
There are two Printemps stores across the road from each other at this location – one for women's fashion and one for beauty and homeware. You want the beauty and homeware store to access the cafe and view.
While you're at Printemps, make sure you have a wander around their perfume department – particularly if you're interested in purchasing some Parisian perfume as a treat for yourself. Head to the L'Artisan Parfumeur concession. Their Soleil De Provence scent is my new favourite!
Closest Metro Station to Printemps: Have-Caumartin (Line 3 and 9)
Day 3 in Paris with Kids
The Louvre
Although you may not automatically think of museums and galleries when it comes to a trip to Paris with teenagers, the Louvre really should make your itinerary for 4 days in Paris. You just have to do it in the right way. That usually means going early, and leaving before lunch. Don't have lofty expectations of how long you'll spend in there. The Louvre has 400 rooms and is the world's largest and most visited art museum. Aim to see the highlights.
On the Louvre's website, you'll find two tours of the Louvre worth following – the Highlights tour and the Beyonce and Jay-Z tour. They're not vastly different, both taking in the headliners: the Mona Lisa and the Venus Di Milo. We found that the Highlights tour was the right length for our two, who were ready to move on by the end of it.
I wouldn't advise booking a tour of the Louvre if you're in Paris with kids, unless you feel confident your children would be ok with a longer visit and lots of information. You can hire an audio guide headset (on new Nintendo 3DS's). These come in 9 different languages and the Louvre state that they are suitable for adults or families.
Grab a baguette and a coffee at one of the takeaway counters or cafes to break up your visit if you need to.
Book your tickets to the Louvre in advance here.
Closest Metro station to The Louvre: Louvre Rivoli or Palais Royal Musee du Louvre (Line 1)
Pont De Les Arts Bridge
A short walk from the Louvre is the Pont Des Arts Bridge, previously known as the Love Lock Bridge.
The bridge was built in the early 1800's, during Napolean's reign, and its design was inspired by the Severn Bridge in England.
The bridge has long been affiliated with romance and there was a tradition of people attaching 'love locks' with their initials or names engraved on them to the bridge. However, in 2015, they were all cut down as the weight of all the locks was taking its toll. Now, you'll see only a handful, attached to some of the posts along the bridge.
Despite the lack of love locks, the Pont Des Arts bridge is definitely still worth making the trip across. You'll get a great view of the River Seine. Plus, you're spoilt for choice with attractions on both sides – the Louvre on one and the Musee d'Orsay on the other.
Closest Metro Station to the Pont Des Arts Bridge: Louvre-Rivoli (Line 1)
Eric Kayser Bakery
No trip to Paris is complete without a visit to a top boulangerie and Eric Kayser should make it on to your itinerary for 4 days in Paris. With the first branch making an appearance in 1996, there are several branches in Paris (and now 200 worldwide). We visited the one on Rue du Bac, a few minutes walk from the Musee d'Orsay.
You can eat in or take away at this larger branch. I recommend trying the sliced beef and mayonnaise baguette and the lemon tart. The baguettes here are the best kind – fresh and chewy with just the right amount of crunch. You'll find perfect pastries here as well – croissants and pain au chocolates worth getting out of bed for. You'll definitely find something each of the family will be happy with at Eric Kayser.
Closest Metro Station for Eric Kayser: Solferino (Line 12)
Bouillon Pigalle
I'm guessing food might be a substantial and important element of your trip to Paris. It definitely was for us! We were excited to expose the kids to some traditional French food – although the Frogs Legs and Snails were saved for another time!
We were staying near Pigalle, and Bouillon Pigalle came highly recommended. Along with the other Bouillon restaurants, the Pigalle branch is very popular due to its thoroughly French fare and very reasonable prices. Book ahead if you can, or join the lengthy queue outside (it does move fairly quickly).
In France, a Bouillon is a large, canteen-style restaurant, with food served quickly and at affordable prices.
Bouillon Pigalle's famous dishes include its Oeufs Mayonnaise (Eggs Mayo) and Giant Profiterole. Not bad for less than 5 Euros! While there's no kids' menu here, I feel confident your kids will find something on the menu they like here!
Book your table at Bouillon Pigalle here.
Closest Metro Station for Bouillon Pigalle: Pigalle (Line 2)
Day 4 of your family trip to Paris
Le Marais
Le Marais is Paris's historic Jewish District. It takes its name from the French word for 'marshland'. It's a popular area of Paris and, with its cobbled streets and fantastic eating establishments, an attractive part of the city to walk around.
It has some wonderful bakeries and one of the best Falafel restaurants I've ever been to: L'as du Fallafel on Rue des Rosiers.
If you have a teenager who is into vintage clothes shopping, there are lots of unique boutiques and second-hand stores here. If you have younger kids and want to pick up the ultimate French outfit for them, head to Bonton on Filles du Calvaire.
There's a small park nearby called Place des Vosges. There's a sandpit and play area for kids here, and in the summer it's a lovely place to relax and just enjoy the atmosphere.
Closest Metro Station for Le Marais: Hotel de Ville, Rambuteau (Line 11)
Le Café des Chats
For something a little bit different, and particularly if you have animal-loving teens and tweens, head to Le Cafe Des Chats on Rue Sedaine in the Bastille.
They have around 12 cats, all originally strays that have been adopted by the cafe. They're a friendly bunch who roam freely around the cafe. There's a downstairs area they can head to if they want some quiet time. You're asked not to touch the cats when they're sleeping. This is very much their domain and they feel comfortable in it.
The food is surprisingly good – the kids had burgers and we had coffee and desserts.
This cafe was a big hit with my daughter who loved stroking the cats when they came over to our table.
Closest Metro Station for Le Cafe Des Chats: Breguet-Sabin (Line 5)
If you're looking for more inspiration for travel in Europe, take a look at The Ultimate Road Trip in Scotland With Kids or The Best Itinerary For a Family Holiday in Croatia.