Aix En Provence, or simply Aix, is a city known for its colourful markets, post-impressionist art, impressive architecture – and lavender! It's known as "the city of a thousand fountains" (due, unsurprisingly, to all the fountains you'll find here). With one day in Aix En Provence, you can explore more than just the city centre. There are beautiful villages and lavender fields just outside the city perimeter and it's definitely worth making time to visit these. Read on for your Aix En Provence itinerary.
Can you see Aix En Provence in One Day?
You can definitely get a taste of Aix En Provence in one day, even if it feels a little rushed trying to fit everything in. We had one day in Aix En Provence as our Royal Caribbean cruise stopped in nearby Marseille. We knew we wanted to see some of Provence, and perhaps one of the pretty Luberon villages nearby. One day in Aix En Provence is enough to see the main sights – although simply walking around and absorbing the atmosphere should probably be top of your list.
Aix En Provence Parking
Aix En Provence parking is available within the city centre, and there's also a park-and-ride option. There are nine city car parks run by Semepa, of which Mejanes Park and Mignet Park have the most spaces. Access the Semepa website here. Aix En Provence parking outside the city is available via the city's park-and-ride scheme. Parking at these sites is combined with a free bus service into the city centre. For more information on this, head here.
What is the Most Beautiful Village near Aix En Provence?
Obviously, this is open to debate, but I knew I wanted to go to one of the villages near Aix En Provence, so I did a bit of research into this. I often saw Lourmarin flagged and so this is the village we chose to visit. If you have a car (rentals can be arranged with Aix En Provence Avis), it's quite simple to reach Aix En Provence's surrounding villages. Most of the villages are located in an area called the Luberon. Other picturesque villages in the Luberon include Gorbes, Cassis and Eygalières. I love this CN Traveller roundup, which also includes some beautiful photography. Read more about Lourmarin in my Things To Do in Aix En Provence section below.
Where is the Lavender in Aix En Provence?
There are a number of lavender fields near Aix-en-Provence, typically found in the wider Provence region, such as the Plateau de Valensole and the Luberon area. You can see lavender from late June to early August – with the best time to visit being July. Read more about one of the closest lavender fields to Aix En Provence further on in this post.
Things To Do in Aix En Provence and the Surrounding Area
For a perfect day in Aix En Provence, these are some of the activities I'd recommend trying to fit in:
Shop for Lavender Products, Soap or Perfume
Aix En Provence is a shoppers' paradise. I was excited to visit the original Compagnie De Provence shop to buy some of my favourite handwash. There are branches on Rue Des Cordeliers and Rue Andre Ampere. If you're a fan of Lavender, there are plenty of products to pick up and take home in Aix En Provence. Perfume is also a great gift to buy (for yourself or others) – visit Rose Et Marius for some unique scents. They also offer workshops where you can create your own perfume.
If you're a lover of French fashion, there's a Sezanne store here (on Rue Papas­­­­­­­­­saudi). I'd already planned to pop in to buy their Gaspard sweater, which I'd had my eye on for a while.
Check out the new and very cool Les Allees shopping mall where there are lots of stores teens and tweens will love. There's also 2 hours of free parking here on weekends.
For markets in Aix En Provence, see below.
Explore the Old Town Including Cours Mirabeau
Cours Mirabeau is Aix En Provence's most famous street, known for its elegant architecture, fountains and the trees which line it.
The street was created in the 17th century and named after Count Mirabeau, a significant political figure in the French Revolution. Cours Mirabeau was initially intended as a promenade and, more unusually, as a place for horse racing.
You'll find lots of cafés and restaurants on Cours Mirabeau. It's a popular spot for both locals and tourists to enjoy lunch, dinner or coffee while soaking up the atmosphere.
As you wander, keep an eye out for four fountains: the Fontaine des Neuf Canons and the Fontaine du Roi René (which features a statue of King René holding a bunch of grapes), the Fountaine de la Rotonde and the Fountaine d'Eau Chaude.
The narrow, winding streets of Aix En Provence's old town are a pleasant place to walk. Saint-Sauveur Cathedral is worth taking a look at, as are the private mansions which line the street.
Appreciate Art at Atelier Cezanne or the Granet Museum
With one day in Aix En Provence, you may have to choose between these two museums. If you have 2 or 3 days in Provence, make sure you fit them both into your Aix En Province itinerary.
Post-Impressionist artist Paul Cezanne was born in Aix En Provence and spent most of his life here. Many of his works portray the landscapes of the countryside around Provence.
Atelier Cezanne is the studio Cezanne worked in during the last years of his life. You'll be able to see his work tools and some of his paintings. You can book your tickets in advance here.
Musee Granet features more Cezanne artworks as well as pieces from other artists, such as Rembrandt and Ingres. Book your tickets here.
Have Lunch at One of the Luberon Villages
A visit to one of the Luberon villages is definitely recommended. Lourmarin, which we visited, can be reached by car in around 40 minutes so it's definitely doable even if you have only one day in Aix En Provence, as we did. Lourmarin market day is on a Friday – so if you happen to visit then, count this as a bonus!
An hour or two in Lourmarin is sufficient to take a stroll along the cobbled streets and choose a cafe to have lunch or coffee at. If you're having lunch, make sure you try a traditional Provencal dish such as Bouillabaisse (fish soup) or Ratatouille (stewed vegetables).
If you'd like to stay for longer, you can visit Chateau de Lourmarin. The castle was built in the 15th century and there's a particularly beautiful garden worth visiting here.
Take a Tour of Aix En Provence
There are a range of different tours available from Aix En Provence Tourist Office. Walking tour titles include: 'Aix: The Essentials', 'Fountains and Gardens' and 'In the Steps of Cezanne'. Check the Aix En Provence Tourist Office website to see which tour is on offer on which date, and to book in advance.
There are plenty of other half-day Aix En Provence tours available. If you're travelling to Aix En Provence with kids, they might enjoy this E-Bike tour or this short market tour with tastings.
Tours by Locals is also a great website, offering private and more unique options in Aix En Provence.
Visit Terre Ugo Lavender Field
The closest lavender field to Aix En Provence is the family-run Terre Ugo. It's open from 1st June till 31st August and prides itself on being a child-friendly destination. There's a lovely shop here with Terre Ugo products available to purchase.
We visited Terre Ugo just after mid-August, and the lavender in the fields was being harvested while we were there. It was interesting to see, but the best time to visit one of the lavender fields is definitely July when it looks just stunning. Many of the lavender fields in this area are closed to the public by this point of the year. Terre Ugo is one of the last ones to close so it's worth popping along even if the lavender is past its best.
Terre Ugo is free to visit with the Aix En Provence City Pass.
Markets in Aix En Provence
Aix En Provence is known for its vibrant markets and if you're visiting on the right day, it's definitely worth visiting one. Here are the best markets in Aix En Provence to head to:
Place Richelme Market:
Location: Place Richelme
When: Every day
Details: A daily food market in the heart of the old town. It features stalls selling fresh produce, fruits, vegetables, cheese, flowers, and more. It's a great place to experience the flavours of Provence.
Weekly Markets:
Location: Various locations in the city
When: Tuesdays, Thursdays, and Saturdays
Details: On Tuesdays, Thursdays, and Saturdays, larger markets take place in different parts of the city. These markets offer a wide range of products, including clothing, accessories, antiques, and artisanal crafts.
Flower Market:
Location: Place de l'Hôtel de Ville
When: Tuesdays, Thursdays, and Saturdays
Details: A colourful market where you can find a variety of blooms and greenery to buy – or just go to enjoy the spectacle.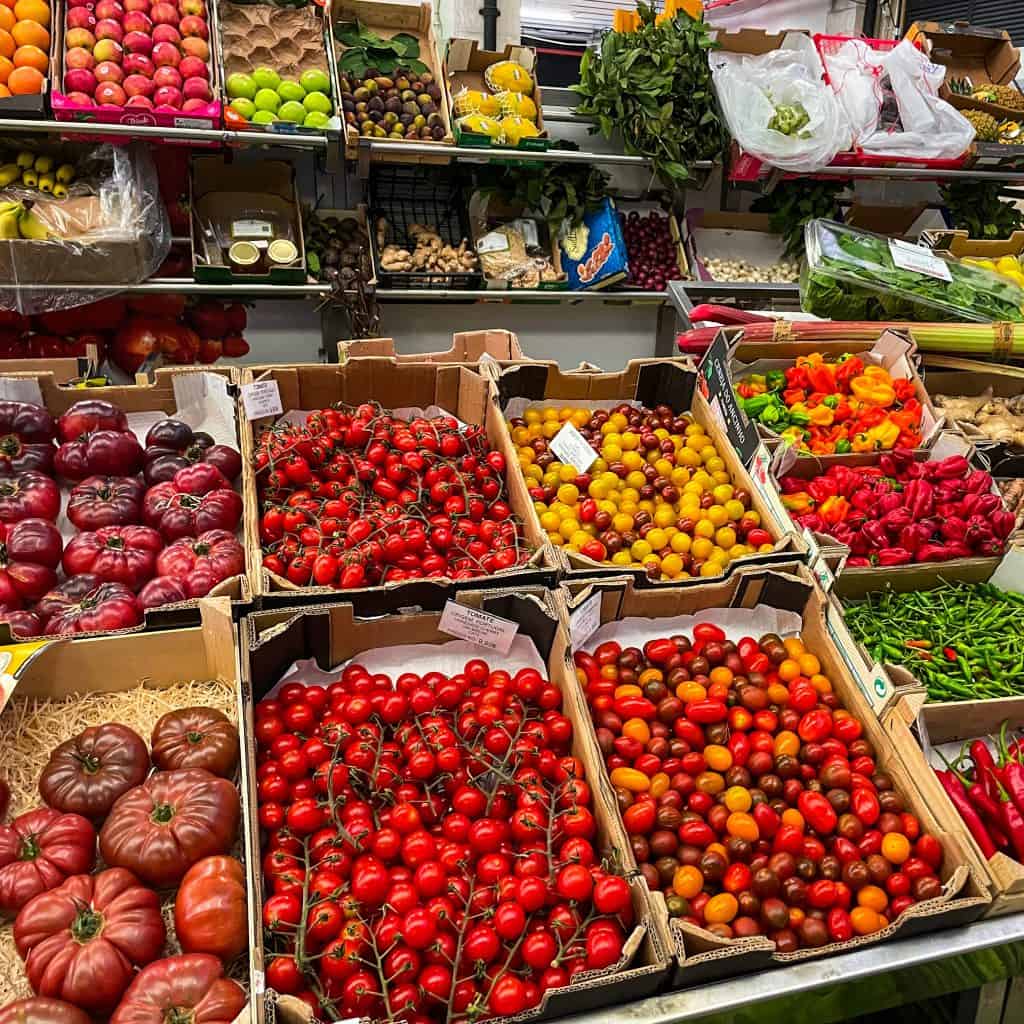 Marché des Producteurs de Pays (Farmers' Market):
Location: Place des Prêcheurs
When: Fridays (seasonal)
Details: This market features local farmers and producers selling their own products, including fruits, vegetables, meats, cheeses, and more. In particular, it promotes local and regional products.
Antiques and Book Market:
Location: Place de l'Hôtel de Ville
When: First Sunday of each month (except July and August)
Details: A great spot for antique enthusiasts and book lovers.
Christmas Market
Location: Cours Mirabeau
When: 17 November to 31 December 2023
Details: Plenty of craft and food stalls on offer as well as activities, shows and Father Christmas on offer for children.
I hope this One Day in Aix En Provence itinerary was helpful! For other 24-hour itineraries in Europe, check out my 1 Day Cinque Terre itinerary and Italy with Teenagers: 24 hours in Rome.