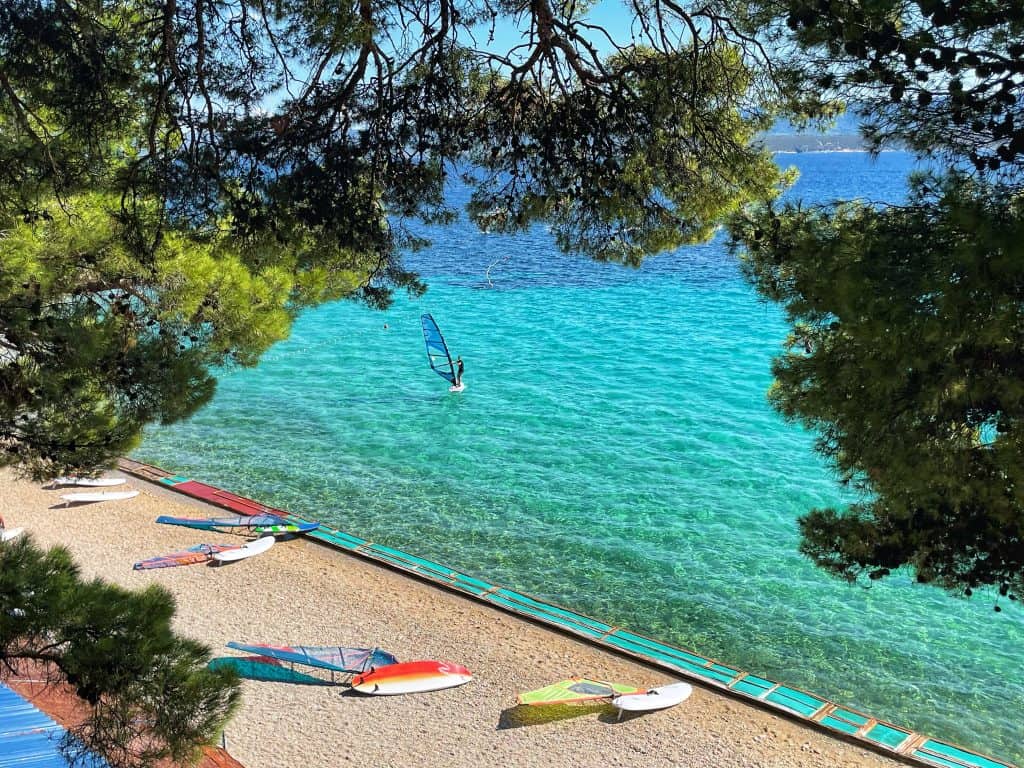 Croatia is not Disney. If you're looking for theme parks and waterslides, you won't find many here. However, on a family holiday to Croatia you will find clean (pebbly) beaches, mesmerisingly blue water, the richness of history and culture, exceptional food and wine, and watersports galore.
There's no doubt that Croatia is on the up in terms of tourism. Since 2013, the number of visitors has risen by well over five million (Croatia itself only has a population of 4.3 million people). With the pandemic having limited our options for travel, Croatia has become one of the safest and easiest countries to travel to and one of the top options for travellers in 2020 and 2021. Croatia holidays for families are a popular choice currently.
Due to the war in the 1990s, Croatia has only really become a tourist destination in the last 20 years or so. The country has adapted to tourism quickly and efficiently. Island hopping, in particular on those islands between Split and Dubrovnik, has become increasingly popular and is a great option for families wanting a multi-base break with a mix of history, nature and beach time. Croatia family vacations are a fantastic choice; you certainly won't regret heading to Croatia with kids.
Our Family Holiday in Croatia Itinerary
For our Croatia with kids trip, we chose to start in Split and worked our way south towards Dubrovnik via a couple of the islands in between. However, you can just as easily do the trip in reverse, or use Split or Dubrovnik as your base and travel to islands from there.
You'll need around 10 days for your family trip to Croatia if you want to visit Split, Dubrovnik and two of the islands in between. If you want to include the capital, Zagreb, or another island or two, you'd be better off with at least two weeks. If you have only one week, this could include Dubrovnik and one or two of the islands (you can do day trips to the closest ones if you're particularly short on time).
We flew to Croatia with Wizz Air and back with British Airways (Easyjet is another option). We picked the airlines for the flight times that were convenient for us and both were fine. For ferries to the islands, book in advance with Jadrolinja or Krilo if you're visiting in the high season (July and August). If you've hired a car for your family holiday in Croatia (we didn't and managed well with just ferries and taxis for transport), there are car ferries as well as passenger catamarans. If you or your kids suffer from motion sickness at all, make sure you pick up some anti-sickness tablets before you travel. We had one very rough crossing between Brac and Korcula!
Read on to find out more about Croatia for families…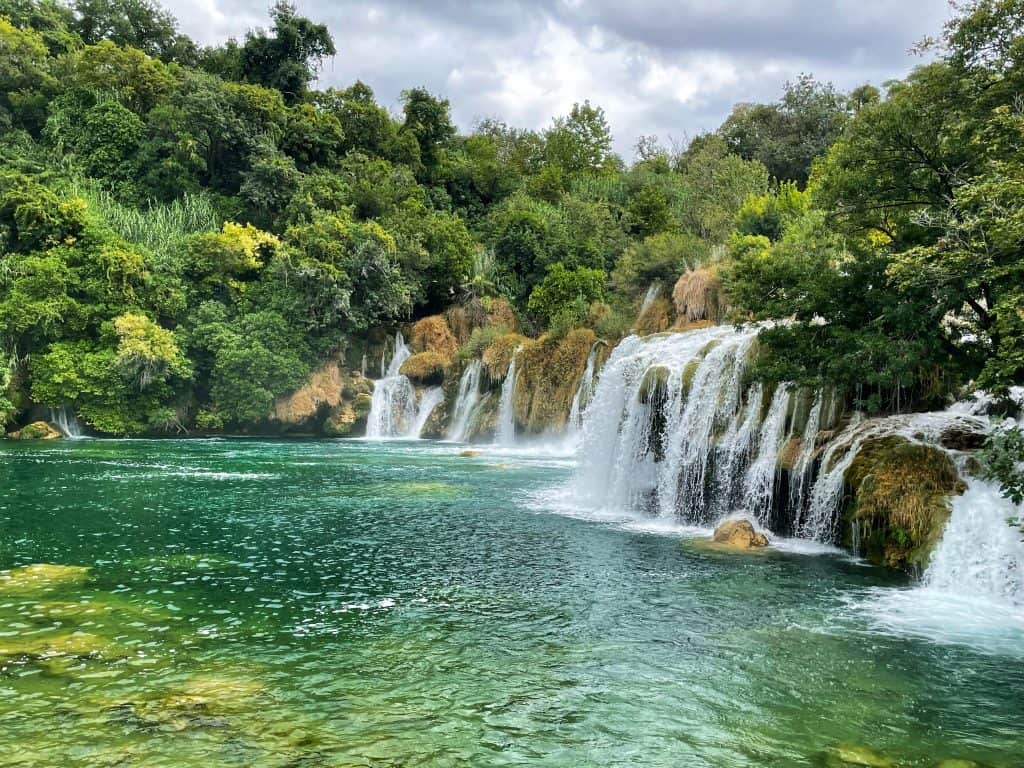 Split With Kids:
Our starting point for our family holiday in Croatia was Split. We allocated three nights/two full days to Split which we felt was about right. One day can be used for exploring Diocletian's Palace (an ancient Roman palace built by Diocletian for his retirement) and the old town. We found this only took half a day and we spent the other half at nearby Kasjuni beach. If you and your kids have the energy, you can reach it by walking through Marjan Forest Park.
Krka National Park
The other day can be allocated to a day trip, of which there is a number heading out from Split. We chose a trip to Krka National Park with Pelican tours, in part due to the proximity to Split. Krka is magical and a must for your family holiday to Croatia itinerary. You'll follow a boardwalk through the park, passing waterfalls and gorges and the most beautiful emerald green water. There's a quick history lesson thrown in with a talk and demonstration in the traditional mill cottages which contain equipment once used to make clothes and other items.
The park gets incredibly busy and although there are food options at the end of the boardwalk, I'd advise picking up your lunch from a bakery before you head out on your trip (most sell sandwiches or will make one for you – Mlinar is the bakery you'll see most branches of). Since January 2021, you can no longer swim at the large waterfall here; a decision based on wanting to protect the endemic fish species in the park.
Our tour included a stop in Sibenik (a small medieval city with two UNESCO World Heritage Sites – the beautiful Cathedral of St James and the imposing Fortress St Nicholas) on the way and wine tasting at a local winery in Skradin on the way back (peach juice and ice cream for the kids!) A perk which made us glad we chose this tour specifically.
Another option for a tour from Split is Plitvice Lakes National Park, but this is much further away (around four hours) so we decided against it. It's closer to Zadar if you plan to stop there.
Split Accommodation:
Perimar Luxury Apartments and Rooms in Split. Clean, modern and only a few minutes' walk from Diocletian's Palace, we were happy with this choice. One double bedroom and a sofa bed in the lounge area for the kids.
The best bit in Split for kids:
Krka National Park – take a guided tour and learn about the endemic snakes there!
Brac Island With Kids:
The largest island on the Dalmation coast and the closest island to Split is Brac (pronounced 'Bratch'). It's famous for the Golden Horn (Zlatni Rat), the white stone used to build Diocletian's Palace in Split and the best conditions for sailing!
We stayed in Bol as this is where the Golden Horn is located. It's often touted as being the more beautiful sister to Supetar on the north side (your other entry point). Brac, and Bol especially, is popular and can get busy. However, we immediately felt our shoulders drop as we got off the ferry and that relaxed feeling stayed with us while we were there.
Not as lush as some of the other islands, Brac's beauty stems from its turquoise waters and the abundance of olive trees lining the main promenade. The promenade takes you all the way from the port, through the town and onto the Golden Horn. It's easy to navigate and beautiful to stroll along. Walking, cycling, swimming and watersports such as sailing and paragliding are your main activities here.
Brac Accommodation:
Rajski Dvor. A budget option with a perfect location off the promenade (which is lined with ice cream, coffee and smoothie stalls). It's halfway between the town and the Golden Horn, and right opposite a small beach. They have bikes which are free to borrow.
The best bit in Brac for kids:
The inflatable obstacle course at Zlatni Rat. Take trampolining socks for extra traction!
Korcula With Kids:
We skipped Hvar, the next island along, and headed to Korcula next. It's not the easiest of the islands to reach, but its charm ensures it's worth it. Sometimes referred to as "a mini Dubrovnik", the historical centre features a succession of narrow cobbled streets arranged in a fishbone pattern and overlooking the sea. The fishbone design was inspired by the residents' desire to be sheltered from the impact of the wind and sun. The old town centre is dominated by the impressive St Mark's Cathedral, built in the 15th century. Wandering through the tiny streets was our favourite thing to do here.
Legend has it that the explorer Marco Polo was born in Korcula (the Venetians might disagree) and you'll find a small museum, his home and a number of shops and restaurants here named after him.

If you fancy a boat trip, or feel like hiring a car, you can reach the other side of the island pretty quickly and visit the vineyards in Lumbarda, where you'll find their renowned GRK wine. There are a number of vineyards offering tours and wine tasting here.
Korcula Accommodation:
Port 9 Hotel and Apartments. A bit like a holiday village, we stayed at the same time as several Croatian kids' water polo teams (they were playing in a big tournament on the island – water polo is massive here). Accommodation is modest, however the infinity pool and the view beyond it are very appealing and there are lots of facilities and activities for kids (a climbing wall, kids club, games room and disco). The town is a 20-minute walk or a short taxi-boat ride away.
The best bit in Korcula for kids:
The Semi Submarine departs from the East Port (14 Euros for adults, 7 Euros for children aged 12 and under and free for under 3's). Home-made pasta at Konaba Maslina (worth the effort to get to). Ice cream at Marco Homemade Ice Cream.
Dubrovnik With Kids:
Dubrovnik is a stunner; we'd heard good things about it but little prepares you for the sight of the old town within the city walls. The wall walk would be our number one in terms of things to do in Dubrovnik with kids, with the cable car a close second. The views from the top (Srd) are worth the slightly pricey tickets.
The Walls
Walk the walls when they first open in the morning or later in the day – firstly to avoid the midday heat if you're visiting in summer and secondly to minimise the crowds. The walls are not buggy friendly so children would have to walk, or be carried. However, there are plenty of spots along the way to have a break and pick up a drink or an ice cream. Tickets are 200kn per adult and 50kn per child and you can buy them from the kiosk at the entrance at Pile Gate.
Stradun
Before or after the walls, take a stroll down Dubrovnik's answer to the Champs Elysees, Stradun (or 'Placa' as it is officially known), the pedestrianised main street which divides the old town into northern and southern parts. Start at Pile Gate and you'll pass the 16-sided Onofrio's fountain, the church of the Holy Saviour and the Franciscan monastery. Take a peek at the Old Pharmacy, one of the oldest chemists in Europe and still in use today.
The main attraction of Stradun, however, is the atmosphere, and the little cafes and restaurants which line the 300-metre route. Keep walking and you'll reach the port at the other end. Restaurants are pricey here; you may want to pick something up from Mlinar and prioritise an ice cream from Peppino's (there are two branches near Stradun).
Dubrovnik Cable Car
The Dubrovnik Cable Car completed our first day in Dubrovnik. Go for the experience and for the view. The sparkling Adriatic, the old town and the surrounding islands are a sight to be seen from the vantage point at the top. There's a restaurant and toilets at the top, and an option to do a Buggy Safari Tour. Tickets are 170kn per adult and 60kn per child (age 4 – 12 years) for a round trip.
Lokrum
On our second day, we wanted something a bit more sedate. We decided on a trip to the tiny island of Lokrum (just a 15-minute journey away by boat).
You can buy a ticket at the Old Port. Boats leave every half hour in high season so no need to book ahead. They cost 120kn per adult and 20kn per child. This includes entrance to the island and the return journey. Even in high season, the island has a peaceful, calming feel to it, a world away from the freneticism of Dubrovnik. There's a monastery, a botanical garden and a saltwater lake (known as the Dead Sea) on the island, all of which are worth exploring.
The Benedictine monks first inhabited Lokrum as far back as 915 AD. The legend goes that when they were forced off the island by the Habsburgs, they spent the night before their departure ensuring a curse was placed on whoever used Lokrum for their own personal pleasure. Real or imagined, the island remains uninhabited; the last visitors must leave the island at 8 pm. There's lots of information here about Lokrum's history, and kids will no doubt be intrigued by the idea of the curse. They'll also love all the peacocks (and peachicks!) which roam the island. A trip to Lokrum is definitely at the top of the list of things to do in Croatia with children.
Game of Thrones
Of course, if you're a Game of Thrones fan, then Dubrovnik will excite you further. There are a vast number of shops and tours relating to Game of Thrones, showing you where certain scenes were filmed. I've never watched an episode myself, but I could see why they chose Croatia, and in particular, Dubrovnik, as their main location! If you'd like to know where the main filming locations are and want to explore them yourselves rather than booking a guided tour, take a look at this article on gretastravels.com.
Dubrovnik Accommodation:
We saved the plushest accommodation during our family holiday in Croatia till last, staying at the Royal Princess. It's in Lapad, a 10-minute taxi ride from the old town. If you stay, book a room with a sea view – it's worth the extra. I don't think I've ever had a better view from a hotel room than here – overlooking the vast expanse of the Adriatic.
The best bit in Dubrovnik for kids:
The cable car, Lokrum and the ice cream at Peppino's.
Food On Our Family Holiday In Croatia:
The food on our family holiday in Croatia was way better than I was expecting – although I did do lots of research about where to eat before we went. There are plenty of options for kids – pizza and pasta are available at many of the restaurants, as are meat platters with chips. They might even enjoy traditional dishes such as Pasticada (gnocchi and beef stew).
For breakfast, we tended to head to a local bakery to pick up a savoury burek or sweet strudel. Bakeries normally sell coffee and other hot drinks as well.
Lunch was something on the go or a quick stop at a cafe or sandwich bar. For dinner, we ate out every evening. Here are our favourite places to eat at each destination:
Food in Split
Pizza Gust – pizzas are large enough to share.
Downtown Grill – lots of options although quite rowdy if the local football team – Hadjuk Split – is playing at home.
Rizzo – Croatia's answer to Subway but with the freshest, warmest rolls you'll find.
Food in Brac (Bol)
Snack Box – the burgers are spot on, but the salads were our favourites.
Ranc – we got one each of the fish and meat platters.
Konaba Dispet – a family-run restaurant offering fantastic grilled T-bone steak and lamb with lovely veggie sides – surprisingly good value and large portion sizes.
Food in Korcula
Skver – wonderful seafood pasta and traditional Croatian dish Pasticada with gnocchi.
Konaba Maslina – tasty homemade pasta with a range of different sauces.
Silk – if you fancy Thai and a breathtaking view of the Adriatic.
Marco Homemade Ice cream – you'll go back for a second scoop.
Food in Dubrovnik
Barba – for an octopus burger on the go; there's likely to be quite a queue.
Pantarul – a homely restaurant outside of the old town; does a wonderful veggie risotto.
Peppino's – this famous ice cream parlour has two shops – one in the Old Town and one near the Old Port. My favourite was the Mozart (pistachio, nougat and chocolate). A necessary addition to your Croatia for kids checklist!
More Europe
If you're interested in more travel ideas for Europe, have a look at:
12 Best Things To Do In Taormina
The Ultimate 10 Day Family Road Trip in Scotland