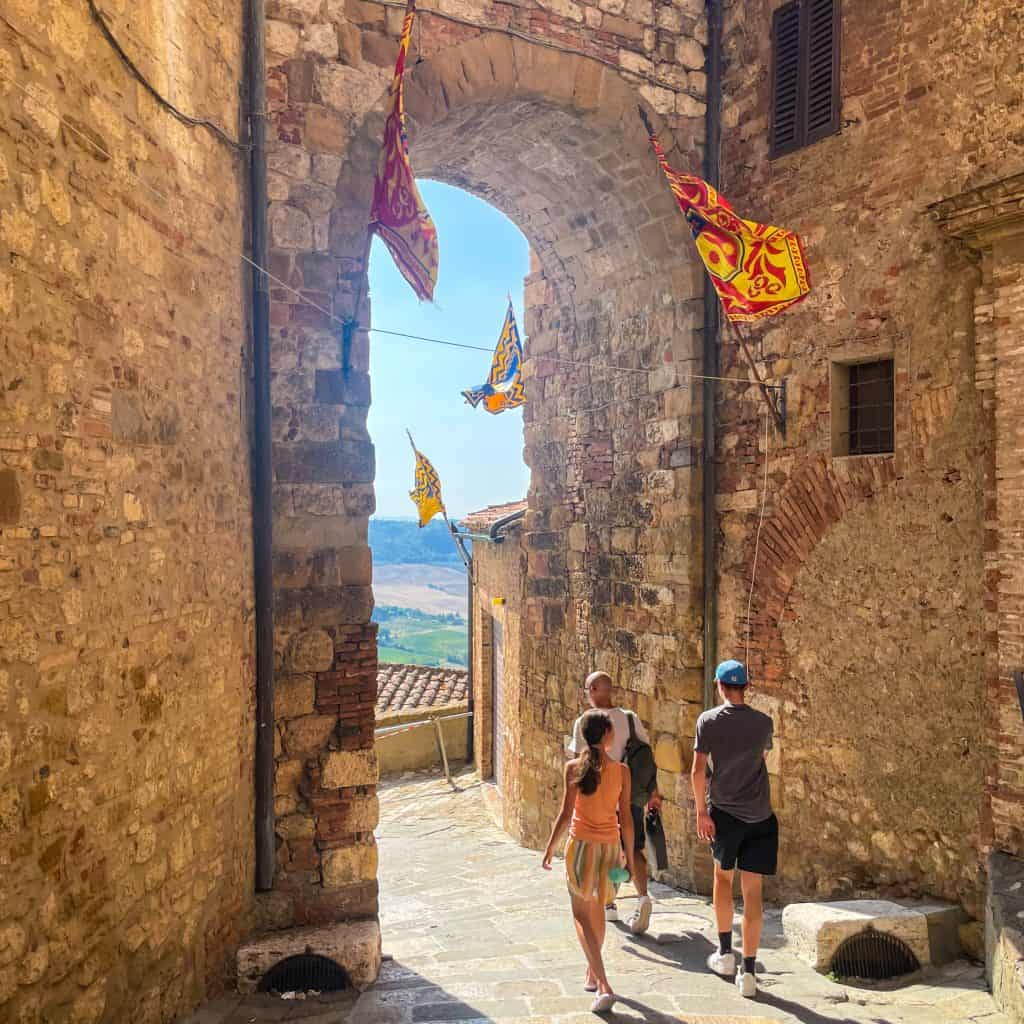 Montepulciano is known for its beautiful historic centre, medieval and Renaissance architecture, and its association with the production of Vino Nobile di Montepulciano, a famous Tuscan red wine. If you're looking into family holidays in Tuscany, it's definitely worth considering adding this town to your itinerary. Read on to find out what to do in Montepulciano.
Where is Montepulciano?
Montepulciano is located in Tuscany, a region in the centre of Italy known for its beautiful countryside. It's around an hour's drive south of Siena and an hour and a half's drive south of Florence (Tuscany's two largest cities).
Montepulciano is in the heart of the Val d'Orcia, a UNESCO World Heritage Site known for its rolling hills, and vineyards, and for being one of the best photo spots in Tuscany.
The town is on top of a hill, elevated almost 2000 feet above sea level, offering stunning panoramic views of the surrounding countryside.
How to get to Montepulciano
If you're looking into family holidays in Tuscany, your best bet is to hire a car (Avis and Hertz are reliable companies). This will give you the most flexibility and make things ten times easier if you're in Tuscany with children and want to explore beyond the cities!
Montepulciano does not have its own train station. In fact, the nearest train station is Chiusi-Chianciano Terme, which is about 15 kilometres (9 miles) away. From Chiusi-Chianciano Terme, you can get a taxi or local bus to Montepulciano. This will take a bit of planning and will obviously eat into the time you have available in Montepulciano.
Buses run from Siena and Florence, alongside other locations and they can be a cost-effective option. Look up the schedules and routes of companies such as SITA and Sena for the most up-to-date information on bus routes and timetables.
If you're flying into Italy from abroad, the nearest major airports to Montepulciano are Florence Airport (Aeroporto di Firenze-Peretola) and Pisa Airport (Aeroporto di Pisa).
From the airport, you can rent a car and drive to Montepulciano or take a train to Chiusi-Chianciano Terme as suggested above.
Montepulciano itself is a small town and easy to navigate on foot. If you're interested in bike hire in Tuscany, take a look at Urban Bikery in Montepulciano. They offer a wine tour, yoga and cycling and a cinema tour. A great way to see a bit more of the area if you don't have a car.
Is Montepulciano Worth Visiting?
If you have around 5 days in Tuscany, as we did, Montepulciano is definitely worth visiting. Of course, whether or not Montepulciano is the right destination for you depends on your interests to some extent. If you're a fan of history, beautiful vistas and wine then Montepulciano should definitely make your list. While it may not be a destination geared especially towards children, there's enough there for them to make it an enjoyable day or half day out.
Where to stay in Montepulciano
If you want to base yourselves in Montepulciano, you have many options open to you. This includes camping in Montepulciano, bed and breakfasts or picking a Montepulciano agriturismo (farm stay).
Camping Montepulciano
Camping in Montepulciano is a great option in the summer months. Here are some popular campsites in Montepulciano:
The Lazy Olive is – unsurprisingly given its name – set in an olive grove and has a 'boutique vineyard'. It has 8 tents, available during the summer, with a pop-up swimming pool on site.
Set on a farm, Agricamping Spineta offers a relaxing space where you can be immersed in nature. There are several options to choose from, including caravan pitches, tent pitches and a mobile home you can rent. A highlight includes tasting the fruit and veg and olive oil they produce here during your stay.
Parco Delle Piscine is a holiday village with thermal pools, a daily entertainment programme and generally lots to do for families. There's glamping, mobile homes and tent pitches to take your pick from.
Bed and Breakfast Montepulciano
Staying at a Bed and Breakfast in Montepulciano is great if you want a little more comfort and a wonderful Italian breakfast prepared for you in the morning. Here are some suggestions:
A highly rated Montepulciano bed and breakfast, The Grapevine offers fantastic views, a lovely garden and a pool – as well as a great breakfast.
Bed and Breakfast Montepulciano
There are family rooms and private parking at Bed and Breakfast Montepulciano, making it a great choice for those travelling to Tuscany with children.
Right in the centre of Montepulciano, the rooms and apartments here make a great base. If you want to get out into the countryside, you can take a tour of the owners' private wine estate in the Montepulciano countryside.
Montepulciano Agriturismo
Consider staying at an agriturismo in Montepulciano if you want an authentic and family-friendly experience. The word agriturismo is a mix of the words 'agriculture' and 'tourism'. In other words, a farm which has opened itself up to receive guests. Here are a few ideas if you're interested in staying in an agriturismo in Montepulciano:
A traditional farm stay surrounded by orchards, this Montepulciano agriturismo is in the countryside, but close to the town too – so you'll have the best of both worlds.
La Fornace Apartments by Terra Antica Resort
The apartments here allow for an element of freedom amongst beautiful scenery. There's lots of space here and amazing views.
Situated 2 kilometres outside of Montepulciano, this farm stay is a traditional Tuscan experience. There's a restaurant on site and the agriturismo produces wine, olive oil and honey.
Montepulciano Itinerary
If you're visiting the town for the day, here are my recommendations for what to do in Montepulciano with kids:
Best Wineries in Montepulciano
If you're in Montepulciano, you need to check out at least one winery, even if you're not planning on drinking. Montepulciano is famous for its wine, in particular the 'Vino Nobile de Montepulciano'. Highly regarded by wine enthusiasts, this red wine is definitely worth trying.
One of the best wineries in Montepulciano is undoubtedly Cantina De Ricci. You can book a cellar tour and/or wine tasting. What's great about it is it's one of the few wineries that's in the centre of town, making it easy to combine with the rest of your sightseeing. It's also child and teen-friendly.
Cantina De Ricci is currently owned by the Trabelzini family, who own several vineyards outside of the town. It's their cellar, in the middle of town, that they're most famous for though – and it's an impressive one!
The underground cellar gets progressively cooler as you venture further down (quite a nice respite from the heat in August)! The tour, which was in fantastic English, takes you into several sections of the cellar. We learnt lots about the history of Montepulciano – as well as their wine.
For the wine tasting, you can choose to try either three or six different wines and you're given cheese, meat, bread and olive oil to go with it. A nice touch was that the kids received juice and snacks even though they were booked for the tour only.
Other contenders for the best wineries in Montepulciano include Ercolani Winery and Avignonesi. Ercolani and Avignonesi are both quite different experiences. Ercolani is also a gourmet food store, in the centre of town. They offer free tastings of some of their wines as well as running food and wine excursions. Avignonesi is an estate outside of the town. They offer tours of two of their vineyards (La Stella and La Tonda), a tour of the beautiful estate and a chance to taste 4 of their wines. Tickets are a little pricier.
Book ahead if you can, although we did see quite a few people turn up and book onto tours on the day too.
Head to the Fortezza and Playground
The playground in front of the Fortezza (at the far end of the town) is a lovely place to spend a bit of time. As well as the playground, there are some fun sculptures kids can climb on and a small maze.
The Fortezza Medicea is a military fortress, originally built in 1261. It's undergone a number of reconstructions and is now an 'enoteca' (a wine bar and shop). Another spot to enjoy some Vino Nobile with some great views. If you head just inside, you'll be able to see some of the ruins and archaeological finds under glass panels on the floor.
Climb the Clock Tower
For the best views of the Tuscan countryside, climb to the top of the clock tower. It's part of Montepulciano's Town Hall on Piazza Grande (the main square). The staircase is narrow with some twists and turns (not suitable for buggies, unfortunately). The space at the top is small as well, so they might ask you to wait for a while if it's busy. The clock tower is also a bell tower – you'll see the impressive bell when you reach the top.
Tickets can be bought on the day at the reception desk (on the left as you enter).
Pay a Visit to the Torture Museum
This one might be suitable if you're visiting Montepulciano with teenagers. My husband and son visited (I chose not to, and thought my daughter was too young). From what I heard, it's for those with a strong stomach. It's a small museum which will only take around half an hour to walk around.
Check out the Twilight Movie Locations
Montepulciano is famous not only for its red wine but also for being the filming location for the Twilight film New Moon. The most famous of the Volturi scenes was filmed in the Piazza Grande (the main square). You'll notice there's no fountain in the square though – that was constructed solely for the movie. It's fun to wander around and see the locations they filmed in (another is the staircase in Cantina De Ricci). Pick up a guide to the filming locations at the tourist office in Piazze Grande.
How Much Time Do You Need in Montepulciano
If you're not staying in Montepulciano and want to visit, half a day is adequate. A wine cellar tour and wine tasting will take a couple of hours, leaving you with perhaps two or three hours more to walk around the town, visit the clock tower or museum/ playground if you'd like to and perhaps get something to eat.
Where to Eat in Montepulciano
We ate at Re Al Quadrato, a small pizza restaurant on one of the side streets leading off the Piazze Grande. Perfect for kids and teens with an appetite.
Montepulciano Events and Festivals
Bravio Dell Botti
If you visit in August, like us, you might notice all the flags adorning the medieval walls. There are 8 different flags, each representing the different neighbourhoods of Montepulciano. The flags are raised in honour of the town's most popular annual event – the Bravio Dell Botti. The Bravio Dell Botti is an uphill wine barrel race, through the streets of Montepulciano and finishing in Piazze Grande. This race is no joke – the contestants are impressive athletes!
For more information, head here.
Christmas Market
From mid-November to early January, Montepulciano hosts the largest Christmas market in central Italy. If you're visiting Tuscany with children in Winter, make sure you head to Montepulciano's 'Christmas Village' and in particular to the Fortezza – where Santa Claus greets his visitors.
I hope this article has helped you plan what to do in Montepulciano with kids. If you're visiting Italy with teenagers or children and planning to visit a number of different locations, take a look at Lake Como With Kids and Italy with Teenagers: 24 hours in Rome for more ideas. I hope you have a great time!